Due to its history of colonization, there are more French speakers on the African continent than in the country of France itself. In fact, French is the official language in 21 African countries and spoken in at least 29, primarily in West and Central Africa. American and other English-speaking tourists often overlook the Francophone countries due to a perceived language barrier, but those adventurous enough to explore will find beautiful landscapes, friendly people, and abundant history and culture. By learning some basic French words and hiring a bilingual tour guide, English speakers can have an enjoyable time in Francophone Africa. Here are our top 5 Francophone African countries that you should visit.
WEST AFRICA
1. Senegal
Known as the land of "Teranga" (a Wolof word for hospitality), Senegal is quickly becoming one of West Africa's most popular tourist destinations. Visitors are lured by its vibrant culture, historical sites, and fabulous beaches. Its capital and largest city, Dakar, sits on the Cap-Vert peninsula, the westernmost point of Africa. At only 7.5 hours from New York, the flight is one of the shortest from the United States to the African continent.
The first stop for most tourists is Dakar, the bustling capital with a fascinating mix of old, traditional, and religious juxtaposed against new, modern, and secular. It's not uncommon to see a Range Rover drive past a horse-drawn cart on the same street or to see two Senegalese men greet each other, one dressed in a traditional boubou and the other wearing jeans and a tee. Though more than 90% of the population practices Islam, Muslims and Christians live side by side in relative peace. In fact, two of the city's most notable buildings are the Catholic Our Lady of Victories Cathedral and the Mosque of the Divinity. But don't let this deeply religious nation fool you. Dakar also has a vibrant night life and you'll need plenty of stamina to keep up. Most parties don't start until after midnight and continue well into early morning.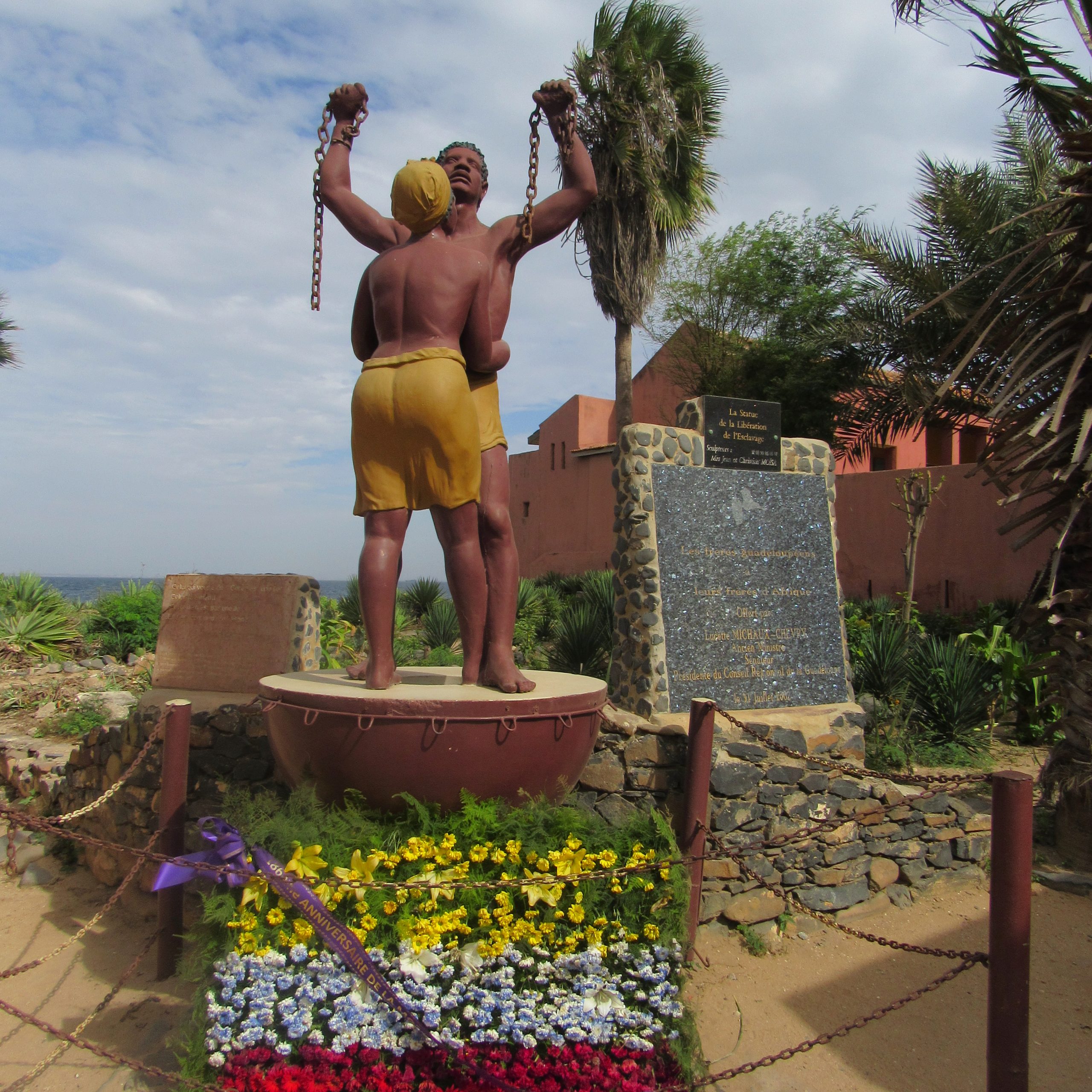 For those interested in heritage tourism, Goree Island and the House of Slaves is a pilgrimage destination. Once a slave trading post during the transatlantic slave trade, today it is a UNESCO World Heritage site and memorial to those affected by the suffering and brutality of slavery. Dakar is also home to the Museum of Black Civilizations – the world's largest museum dedicated to the history of Africa and the African diaspora, as well as the African Renaissance Monument – Africa's largest statue. This massive bronze statue of a Black man, woman and child represents the end of slavery and Africa's emergence from colonial rule. Other noted attractions include IFAN Museum of African Arts, Village des Arts, Ngor Island, and the Pink Lake.
If it's beaches that you want, Senegal has plenty to choose from. Dakar is surrounded by water on three sides and its public and private beaches provide a break for locals and tourists alike. But the most popular Senegalese beaches are found along the Petite Coast, in the coastal towns of Saly, Somone, and Popenguine. Another popular beach area is the Casamance region, in southern Senegal, where Cap Skirring, Abene, and other coastal villages boast some of the most beautiful and unspoiled beaches in the country. The Sine-Saloum delta region, south of the Petite Coast, is a fascinating area of lagoons, islands, and coastal villages and well worth a visit.
French and Wolof are the most widely spoken languages in Senegal. Though it's possible to find a few English speakers, we recommend learning some greetings and phrases in French and/or Wolof.
For more insider tips and information about things to do and the best places to visit in Senegal, check out our Senegal Travel Guide.
2. Côte d'Ivoire
Côte d'Ivoire (commonly called Ivory Coast) is one of West Africa's fastest growing tourism destinations, having seen a near ten-fold increase of visitors between 2010 and 2020. Tourism largely centers around nature, beaches, culture, and architecture. Côte d'Ivoire is an interesting country of contrasts with the 3rd largest French speaking population in the world.
Abidjan is the de facto capital and largest city of Côte d'Ivoire. It's also West Africa's second most populous city and a cosmopolitan city renowned for its shopping, food, and nightlife. Its Plateau area has been called the "Manhattan of Africa" because of its gleaming skyscrapers and manicured gardens. Landmarks include La Pyramide building, St. Paul's Cathedral, Plateau Mosque, Félix Houphouët-Boigny stadium, and the Museum of Civilizations of Côte d'Ivoire. From the markets, maquis (local restaurants), and caves (local bars) to the many rooftop bars, lounges and nightclubs, there's always something fun to do. By contrast, Yamoussoukro, the official political capital, is a much smaller urban town explored by most visitors as a day trip. Its pièce de resistance is the Our Lady of Peace Basilica (Basilica Notre Dame de la Paix), the world's largest church. The Fondation Felix Houphouet-Boigny, Presidential Palace and surrounding Crocodile Lake are other popular attractions there.
The town of Man, located about 9 hours from Abidjan in western Côte d'Ivoire, lies between two of the country's highest mountains and is popular with hikers and rock climbers. It's also home to Les Cascades, a natural waterfall which is the city's best-known attraction (the falls are most impressive during rainy season, but less so during the dry season from July to October). Korhogo, in the north, is a cultural hub known for its wood carvers, weavers, painters, and metalworkers. The handpainted pictorial Korhogo cloth, named after the village, is its most famous export. Kong, a few hours east of Korhogo, is known for its mud mosque reminiscent of those in Mali.
The beach towns of Grand Bassam, Assinie, and San Pedro are also popular with vacationers and locals alike. Grand Bassam is the closest to Abidjan and a popular weekend hangout. The National Costume Museum, Lighthouse, and Artisans Village there are worth a visit. Assinie, about 2 hours from Abidjan, is a resort area with boutique hotels lining the coast. San Pedro, about 7 hours from Abidjan, arguably has the most pristine beaches in Côte d'Ivoire and they're swimmable, unlike those in Grand Bassam and Assinie which have dangerous waves and riptides.
For the nature and wildlife lovers, Côte d'Ivoire has 3 national parks on the UNESCO World Heritage List: Mount Nimba Strict Nature Reserve, a geographically unique mountainous area with unusually rich flora and fauna; Taï National Park, home of 11 monkey species and the pygmy hippo; and Comoe National Park, West Africa's largest protected area, which is teeming with wildlife.
French is the lingua franca in Côte d'Ivoire. English speakers are few, particularly outside of Abidjan, so it's useful to learn some basic French greetings and phrases.
For more insider tips and information about things to do and the best places to visit in Senegal, check out our Côte d'Ivoire Travel Guide.
3. Benin
Known as the birthplace of Vodun (aka voodoo), Benin is a popular destination for those interested in history, heritage tourism, and traditional African religions. Present day Benin was the site of Dahomey, a prominent West African kingdom that rose in the 15th century and specialized in the slave trade. Today, its ruined temples and royal palaces are a UNESCO World Heritage site and one of the country's top tourist attractions. The 12 Royal Palaces of Abomey are spread over 100 acres in the town of Abomey and several have been converted into museums which illustrate the history of the kingdom.
Cotonou, a coastal city in the south, is Benin's largest city and the primary entry point for most tourists as the main international airport is located there. But alas most people are surprised to learn that Cotonou is not the official capital; that would be Porto Novo, the former colonial port city known for its colonial architecture, Yoruba culture, and its connection to Afro-Brazilian history. One of Cotonou's most famous buildings is the Grande Marché du Dantopka, where you can find fruit, spices, electronics, woven baskets, and just about anything else for sale. But the main draw for tourists is the fetish market, with skulls, bones, medicinal treatments, and other items used for traditional vodun rituals. Other Cotonou attractions include the Amazon Statue; Foundation Zinsou, an artistic space with artwork from local and regional artists; L'etoile Rouge, a monument in the center of the city; Centre Artisanal, an arts, crafts and souvenir market; and the Notre Dame Cathedral.
Ouidah, also in southern Benin about 50 minutes from Cotonou, is ground zero for heritage tourists. One of its most visited sites is the Slave Route, a 2.5 mile trail terminating at the beachside Door of No Return monument, a memorial to those who were kidnapped, sold, and shipped to the Americas. Ouidah is also the main site of the Vodun Festival, held every year on January 10th. This festival attracts visitors from around the world who come to celebrate vodun, the traditional animist religion that centers vodun spirits and other elements of divine essence that govern the Earth. At the Python Temple, dozens of pythons are revered and worshipped as religious symbols.
Benin's most unique landmark is the lake village of Ganvie, affectionately called the Venice of Africa. The founders of the village escaped there 500 years ago to avoid slave traders and today the settlement has grown to more than 3,000 homes and buildings, all on stilts and accessible only by boat.
Most Beninese people speak French or Fon, so it's useful to learn some basic French.
4. Togo
One of the smallest countries in West Africa, Togo draws visitors to its wildlife, nature, traditional religions, and historical sites. Its capital and largest city is Lomé, where popular attractions include the Lomé National Museum, Palais de Lomé, Grand Marché, Monument de L'independence, Sacred Heart Cathedral, and the Hotel Sarakawa's Olympic-sized pool.
Similar to Benin, Vodou is one of its most popular animist religions and traditional healing methods are widely used. The Akodessewa Fetish Market in Lomé is the world's largest voodoo market and a mecca for local practitioners and tourists curious about the oft-misunderstood religion. There you can find anything from talismans, leopard heads, and human skulls to Vodou priests who will bless you, create fetishes, predict the future, and make medicines to heal your ailments.
The coastal town of Aného (aka Little Popo), in southeast Togo, was founded as a slave port in the late 17th century and was once one of West Africa's largest slave centers. Today, the slave house in nearby Agbodrafo is a tourist site where visitors learn about the legal and illegal slave trade in the region. It's often a stop for tourists en route to Lake Togo and Togoville, known for its many sacred trees and vodou shrines.
Togo also offers a variety of nature activities. Kpalime waterfalls in the central region are the tallest and most beautiful waterfalls in the country. The falls are impressive during the rainy season, but less so during the dry season from late October to March. Nearby, Mount Agou, Togo's highest mountain, provides hiking and climbing opportunities. Togo also has a range of wildlife in three national parks: Fazao Mafakassa National Park, Kéran National Park, and Fosse Aux Lions National Park.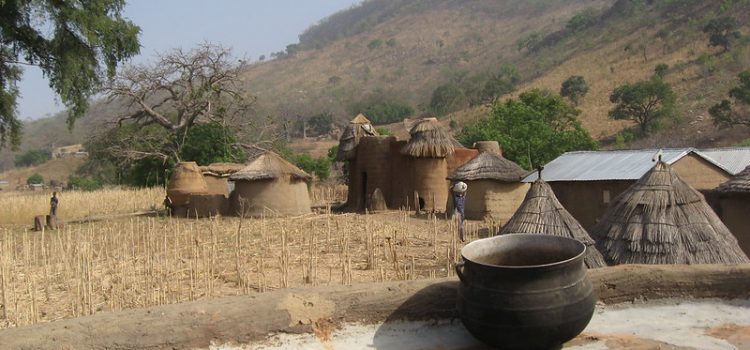 The Koutammakou landscape, in northeast Togo, is a UNECO World Heritage site and home to the Takienta houses of the Batammariba people. These mud tower houses and village architecture have become a symbol of Togo and source of national pride.
French and Ewe are the mostly widely spoken languages in Togo, so it's useful to learn some basic French.
CENTRAL AFRICA
5. Cameroon
Unlike the others, both French and English are official languages in Cameroon. But eight of its 10 regions are Francophone, with 84% of the population speaking French (the Northwest and Southwest regions are Anglophone, with 16% speaking English). Tourism is a minor but growing industry and typically centers around heritage tourism, history, and nature. Travelers are advised to avoid the borders with Nigeria, Chad and Central African Republic due to ongoing conflicts, but otherwise Cameroon has much to offer adventurous tourists.
Cameroon's natural features include beaches, deserts, mountains, rainforests, waterfalls, lakes, and savannas. Wildlife and safaris are also popular, with Waza National Park being its largest wildlife reserve along with 18 other national parks. Mount Cameroon, an active volcano, is the highest point in the country and is popular with hikers and climbers.
Douala is its largest city and also the location of its international airport and largest port. Things to see include the Maritime Museum, Flower Market, La Nouvelle Liberte monument, Doual'Art gallery, and St. Pierre and St. Paul Cathedral. Sonara beach, in nearby Limbé, features black sand, a laid-back vibe, and the best views of Mount Cameroon. Tea plantations and the Limbe Botanical Garden are other oft-visited attractions there.
Yaoundé is the capital and 2nd largest city, beautifully spread over seven hills. Popular attractions include the Reunification Monument, Musée de la Blackitude, Mokolo Market, Place de l'Indépendence, Benedictine Museum of Mont Febe, and the National Museum of Yaounde.
Kribi, located about 2.5 hours south of Douala, is called the paradise of Cameroon. It's renowned for its white sandy beaches, crystal blue waters, and fresh fish served in the many seafront restaurants. The Lobé Waterfalls, which cascade into the ocean, are also nearby. Kribi is also home to the Baka people (formerly known as pygmies).
Bimbia, in southwest Cameroon, was said to be Central Africa's largest slave port during the transatlantic slave trade. Today, its slave village is a national monument and tourist site. While most of the structures were destroyed at abolition of slavery, a few remain albeit in disrepair due to the passage of time. Periodic enslavement reenactments are performed at the site.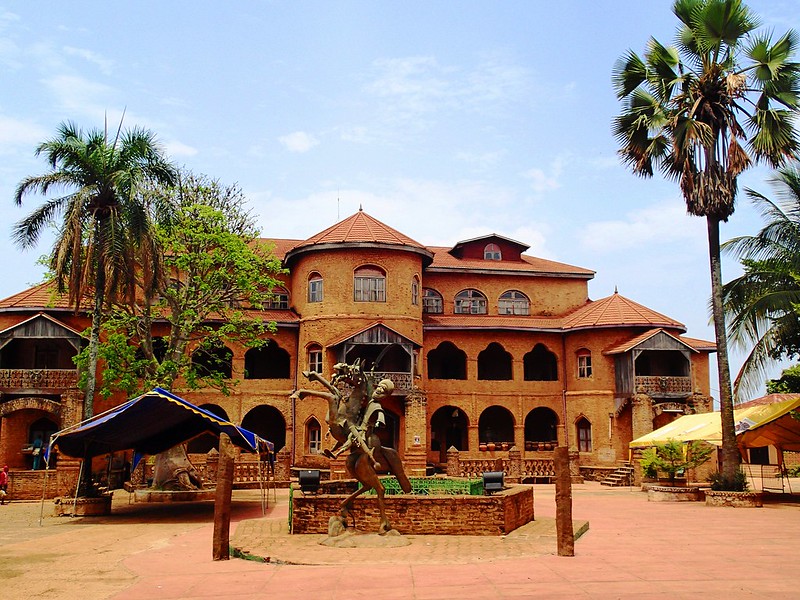 For history buffs, the Foumban Palace and Bafut Palace are must-see attractions. Foumban, in northwest Cameroon, is home to the Bamoun kingdom, which has had a succession of 19 kings since 1394. The palace, where the current king still resides, houses a museum which tells the history of the Bamoun dynasty and displays a multitude of royal gowns, arms, musical instruments, statues, jewelry, masks, and colorful bead-covered thrones. The nearby Museum of Bamoun Arts and Traditions is also worth a visit. Also in the northwest, the Bafut Palace is the heart of the Bafut kingdom. The palace comprises over 50 buildings arranged around a shrine, which are used by the Fon (traditional ruler), his wives, and the royal court.
French, English, and several pidgin languages are lingua francas in Cameroon. But since most Cameroonians speak French, it's useful to learn some basic French greetings and phrases.
---
Local African tour guides and tour companies with Bilingual guides: