Africa has long been stereotyped as the "dark continent", a place rife with poverty, disease, and violence. Owing to this negative image, Africa was often overlooked as a desirable vacation destination. Luckily, times are changing. Many have taken a renewed interest in Africa, particularly black Americans and others across the African diaspora. If you're one of those lucky people planning a first trip to Africa, here is a list of considerations to help with your trip planning.
1. CHOOSE A COUNTRY
Africa is not country, but a continent with 54 diverse countries and island nations offering a variety of landscapes and activities. Deserts, mountains, canyons, beaches, waterfalls, historical sites, adventure activities, wildlife safaris, and traditional villages — Africa has got it all. The vast landscape and multitude of attractions can make choosing which country to visit difficult.
To narrow down your search, you may consider whether you'd like to visit North, South, East, West or Central Africa, or one of the island nations. Many black Americans and West Indians choose a West African country as their first stop on the continent since most of their ancestors hail from that region.
Language is another consideration. English, French, Portuguese, and Arabic are widely spoken across the continent, along with 1,500+ indigenous languages. Some travelers prefer to visit an English speaking country to avoid a language barrier. Others enjoy the challenge of learning to communicate in a new language. You might also consider whether a visa and/or travel vaccines are required. Some choose visa free countries. And some elect not to be vaccinated and avoid countries where vaccines are required. Weather is another thing to consider. The seasons are reversed in the global south, so be sure to check the average daily temperatures for your country of choice.
One of the most important considerations is where your interests lie. Do you prefer laidback vacations with gorgeous beaches or do you wish to go on safari? Do you want to see waterfalls, mountains and other natural landscapes or are you more interested in visiting historical sites and museums? Do you want to enjoy adrenaline rush activities or would you rather experience village life and learn about the people and their culture? These answers can help you find the most suitable country and itinerary for you.
If you want help selecting a country, join the Travel Africa Movement Facebook group to see pictures and videos, review travel guides and articles, and discuss country options with other travelers.
2. HAVE A VALID PASSPORT THAT MEETS THE SIX-MONTH RULE
A passport is a travel document, usually issued by a country's government, that certifies the identity and nationality of the holder primarily for international travel. The United States issues both passport books and passport cards. A passport book is required for travel to Africa.
An application for a new passport book can be submitted online, with supporting documents, photos and fees ($145 as May 2018). Processing typically takes 4 to 6 weeks and the passport is valid for 10 years.
Most countries follow the Six-Month Rule and will not permit a traveler to enter their country unless the passport expires six months or more after the final day of travel. Most also require the passport to have at least two blank pages. Be sure to verify that your passport meets these requirements.
3. VERIFY THE HOST COUNTRY'S VISA REQUIREMENTS
Currently, US citizens can visit 14 African countries without a visa: South Africa, Namibia, Lesotho, eSwatini (formerly Swaziland), Botswana, Senegal, Equatorial Guinea, Morocco, Central African Republic, Tunisia, Mauritius, São Tomé and Príncipe, and the Seychelles. The other 41 countries require a visa.
A visa is an endorsement on a passport which grants the holder official permission to enter, leave or stay in a country for a specified time period. The most common visa types are tourist, student, work and transit visas, and they can be valid for single or multiple visits.
Some African countries require visitors to obtain visas in advance, either online or from an embassy or consulate in their home country. Others issue visas upon arrival at the airport or at a land border crossing. These visas range in price from $20.00 to $275.00. If the country you plan to visit requires an advance visa, be sure to follow all documentation requirements and allow ample time for mailing and processing of your visa application (recommended at least 4 to 6 weeks).
4. DETERMINE WHETHER VACCINES AND/OR ANTIMALARIAL MEDICINES ARE REQUIRED
While some countries have a risk of tropical disease due to their positioning in tropical and subtropical regions, all do not. Contrary to popular belief, vaccines and medicines are not required in all African countries. Routine childhood vaccines (i.e, MMR, DPT) are usually recommended, but others vary by country. The CDC website is the best source of information regarding recommended and required vaccines and medications for each country.
Common diseases include Hepatitis A, Cholera, Typhoid Fever, Malaria and Yellow Fever; symptoms can range from mild to severe. Hepatitis A, Cholera and Typhoid Fever are spread by contaminated food and water. They are prevented by vaccine, as well as by avoiding undercooked food and unclean water. Malaria and Yellow Fever are spread by mosquitos. Malaria can be prevented by antimalarial medications and/or other precautions, like wearing mosquito repellant with DEET, light clothing, and long sleeve shirts and pants. Yellow Fever is prevented by the yellow fever vaccine.
Some countries, typically in West and Central Africa, require the yellow fever vaccine for all visitors. Others only require the vaccine for visitors who are transiting or visiting from a country with yellow fever risk. If you are visiting a country where the yellow fever vaccine is required, you must get it at least 10 days before travel in order to allow time to develop immunity. Once you get the vaccine, you should be given a stamped and signed "International Certificate of Vaccination" (aka Yellow Card). The Yellow Card becomes valid 10 days after vaccination and is good for a lifetime (previously 10 years). The Yellow Card must be presented as proof of vaccination and should be carried with your passport.
**There is limited availability of the yellow fever vaccine in the USA, so allow enough time to find it in an alternate location if it's unavailable in your area.
TIP: The yellow fever vaccine can be expensive (i.e., $250+) in the United States, but is free or low cost (i.e., less than $20) in other countries like Mexico, Cuba, Panama, Jamaica or Colombia. If you plan to travel to a Caribbean or Latin American country in the near future, it may be worthwhile to receive the vaccine there.
5. FIND AN AIRFARE DEAL
No longer do you have to pay $1,500+ to travel to Africa. Airfare has significantly decreased in recent years and you can often find round trip flights for less than $700, especially to popular countries like South Africa, Kenya, Egypt and Morocco. If you're lucky, you can even find round trip flights as low as $450. The Middle East airlines – Qatar Airways, Emirates and Etihad – provide excellent service and quality, and often have the most affordable fares. Several African airlines – Southern African Airways, Kenya Airways and Ethiopian Airlines – also offer service from the USA.
The cheapest flights from the USA to Africa typically depart from New York or Washington DC. If you're not lucky enough to live in either city, you can often travel there from your home city and realize significant savings over the cost of departing from home. Another option is flying through Europe. Flights from Europe to Africa are significantly cheaper than flights from the USA. If you can snag a flight deal from the USA to a European country, you can purchase a separate ticket from there to an African country. In both instances, calculate the price of all options to determine if the time and cost savings are worthwhile.
Google flights is great for searching fare pairs to and from various African cities. Google will also monitor prices for you if you set an alert. Other popular flight deal sites include Secretflying, The Flight Deal, Airfare Spot and Airfare Watchdog. On those sites, you must be ready to purchase quickly because the deals don't always last long.
6. FIND SUITABLE ACCOMODATIONS
Accommodations on the African continent range from basic, backpacker hostels to mid-range B&Bs, guest houses, and apartments, to 5-star luxury homes, hotels and lodges. In short, there is lodging to suit every travel style and budget.
For those looking for basic and cheap accommodations and a communal environment to meet other travelers, a hostel may suit the bill. They typically offer both dormitory and private room options and include common areas with pool tables, kitchens and bars. Hostelworld provides detailed property descriptions and ratings and is a good site to search for hostels across the continent.
For those seeking more homey accommodations, a B&B or guest house might be appropriate. They are quite common across Africa and typically consist of multiple private en-suite rooms within a large home or complex. All guests have access to the common areas, like the lounge area and outdoor facilities. Breakfast is usually included in the daily rate and other meals are available for purchase. An on-site owner and staff provide daily housekeeping and food service. Another option is a short or long-term apartment rental. Unlike B&Bs and guest houses, rental apartments are typically larger single units that don't include housekeeping and food service. Popular rental sites include Airbnb, Innclusive, VRBO, and Homeaway. Rates are often as low as $25 per night.
For those who prefer high-end accommodations, a plethora of private safari lodges, waterfront luxury vacation homes, and 5-star hotels will indulge your appetite for opulence. You can be guaranteed these facilities will be lavish with top-notch service. Five Star Alliance lists 160 of the best African luxury hotels. For those looking for deals, Luxury Link has auctions on a number of luxury resorts where you can name your price.
7. BE A RESPONSIBLE TRAVELER
Historically, travel has had many negative effects, such as displacing local inhabitants, destroying natural habitats, harming wildlife, and excluding local communities from the economic rewards. Responsible travel seeks to minimize those effects and promotes the idea that travel should make a positive impact on local communities, wildlife, and the environment. Africa offers ample opportunities for travelers to support this effort.
When you travel to Africa, find ways for your travel to benefit the local communities you are visiting. Use available space in your luggage to bring school supplies, grooming and health aids, or medical supplies. Pack for a Purpose supports a number of community initiatives and partners with providers across the continent to collect supplies. Stay in locally-owned B&Bs or guest houses. Instead of using big-name corporate tour companies, seek out and use local, African tour guides and tour companies. Visit local communities and learn about their traditional knowledge, culture and cuisine. Talk with the residents and have a meaningful cultural exchange. When shopping, buy directly from local artisans instead of souvenir shops. Avoid exploitative wildlife attractions, such as walking with lions or wild game hunts. Instead, go on a wildlife safari or visit animal sanctuaries that rescue abused and injured animals.
Being a responsible traveler will require more research and effort on your part, but you'll be a good global citizen and have a more fulfilling experience in the end.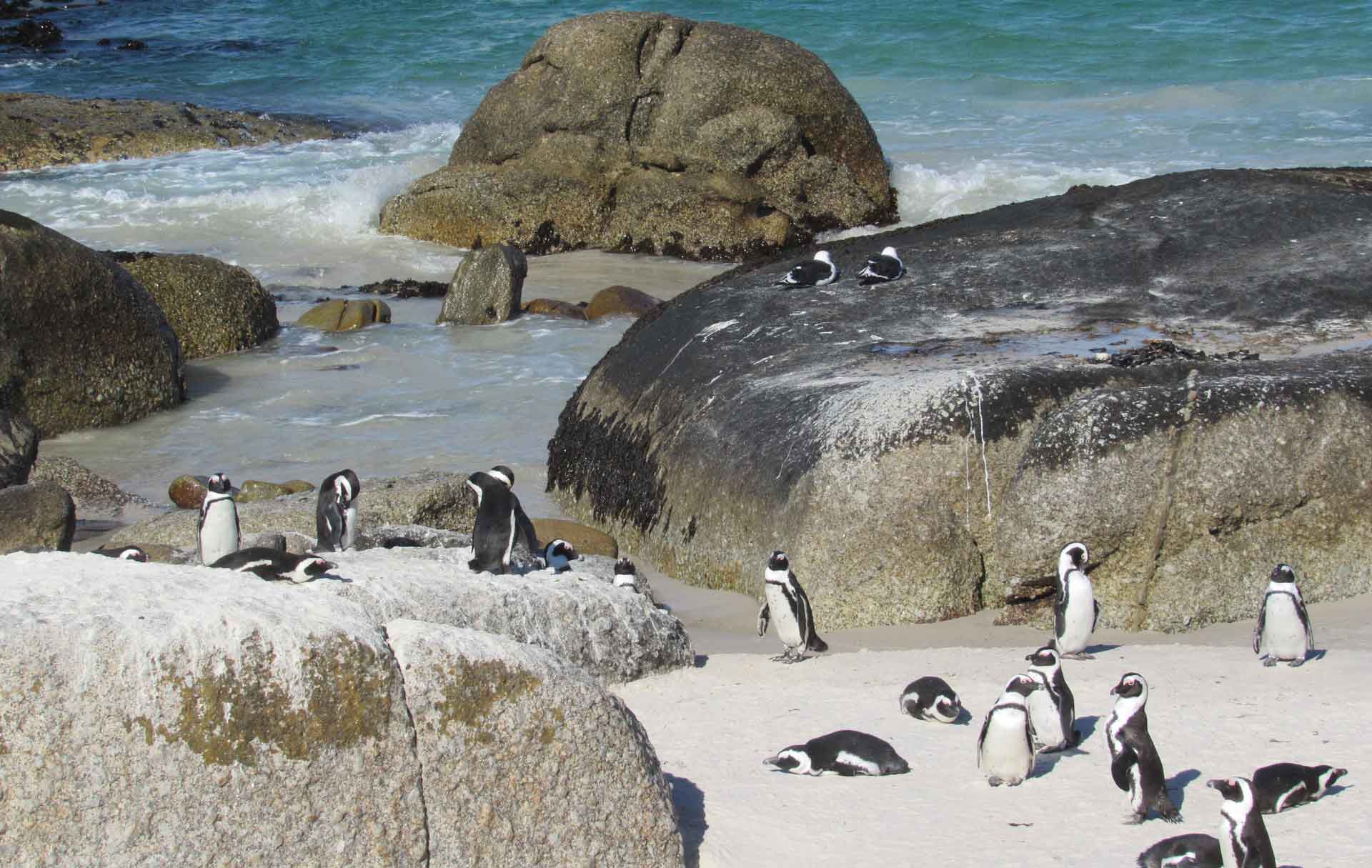 African penguins at Boulders Beach, South Africa
The Travel Africa Movement ™ (TAM) is global community of people who have traveled to or who are interested in traveling to the African continent. We offer several trips per year to introduce our members to the diverse and beautiful cultures, people, cuisines, landscapes, and activities in the 54 countries and island nations of Africa. We hope to see you on one of our upcoming trips. To learn more, visit us at www.travelafricamovement.com.