Located along West Africa's coast, Sierra Leone was once a hub of the Transatlantic Slave Trade. Today, it is one of two African nations offering citizenship to the descendants of those African slaves based on DNA lineage. The country held its first citizenship conferment ceremony in April 2019 and since then has granted citizenship and issued Sierra Leonean passports to more than 250 African diasporans from the USA, Caribbean, and elsewhere. Ceremonies are held twice per year, usually in April and November or December.
Diasporans can apply for citizenship if they can prove maternal or paternal lineage through DNA testing and they visit the country through a certified tour company. The required DNA test is the MatriClan Test (which tests the roots of your mother's maternal line through mtDNA) or the PatriClan Test (which tests the roots of your father's paternal line through Y-DNA). Women must test a male relative on their direct paternal side (father, brother, uncle) to determine paternal lineage, since they don't have Y chromosomes. All DNA tests must be conducted by the Black-owned company African Ancestry. These tests costs $299.00 USD, but a 10-15% discount is periodically offered with online discount codes.
Test results typically take about six weeks from the time your sample is received. If your results show you are lucky to have Sierra Leonean roots, there are specific guidelines and documents that must be submitted, including an Authenticated Ancestry certificate purchased from African Ancestry. Copies should be submitted at least one month before the ceremony date and originals are required upon arrival. The 2022 guidelines are here, but subject to change for 2023 and beyond. The 2023 dates and requirements have not yet been announced.
The citizenship program is conducted under the joint auspices of the Ministry of Tourism and Cultural Affairs and the Monuments and Relics Commission. Its goal is to integrate diasporans into Sierra Leonean society and to increase tourism, business opportunities, and investments in the country. To that end, all participants must spend at least 10 days in country and participate in an organized tour through a government-certified local tour company. The list of certified tour operators can be found here: Tour Operators | Sierra Leone National Tourist Board (ntb.gov.sl) The mandatory and optional activities, as well as average costs, can be found below.
Mandatory Activities:
· Citizenship application (should be completed soon after arrival in Sierra Leone)
· Civics & Cultural Education and Investment workshop (full day program with lunch and entertainment)
· Biometrics capture
· Passport ceremony
Optional/Recommended Activities:
· The Cotton Tree
· National Museum
· Peace and Cultural Monument
· Big Market
· Bunce Island
· Village visit and naming ceremony
· Community service projects
· Leicester Peak
· Beaches
· Group night out
· Dinner reception
Approximate Costs:
African Ancestry DNA test – $299.00
Document fees (Authenticated Ancestry certificate, fingerprinting, background check reports, notary fees, passport photos, etc.) – $100.00-$125.00
Tour package – $2,750.00 – $5,000.00 (costs vary by tour operator, some include airfare)
Airfare *if not included in tour package – $800 – $1,700 (varies by date and departure city so definitely check various options)
Visa – $80.00
Securitipass fee – $52.00
Passport biometrics fee – $100.00
UPDATE 3/1/2023:
The next citizenship conferment ceremony will be held April 20 – 30, 2023 in Freetown, Sierra Leone. Details and requirements are here.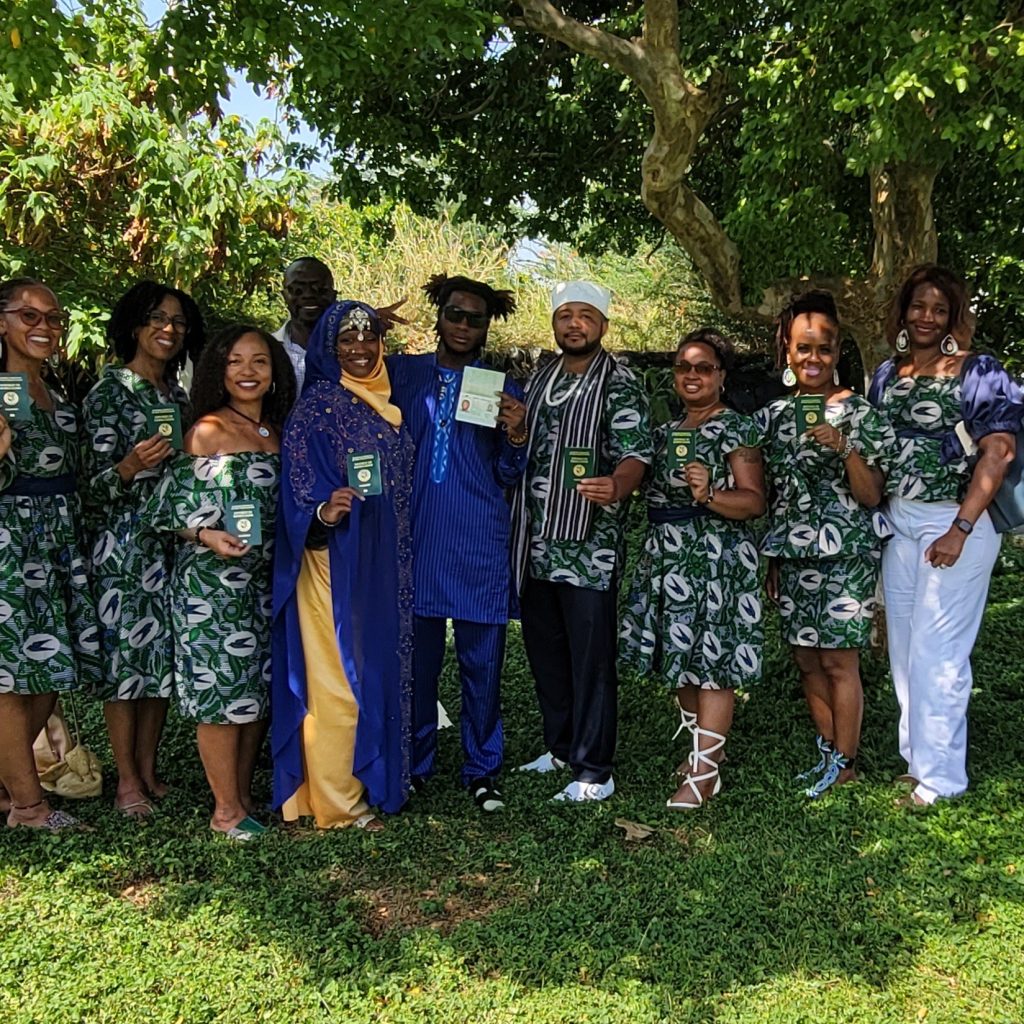 Have you reclaimed your roots and obtained citizenship in Sierra Leone or another African country? How was your experience? Share below.